Lesen ohne Selbstregulation und epistemische Kognitionen?
Zwei Thesen zur Veränderung des Lesens
Literaturhinweise
Afflerbach, Peter/Cho, Byeong-Young (2009): Identifying and Describing Constructively Responsive Comprehension Strategies in New and Traditional Forms of Reading. In: Israel, Susan E./Duffy, Gerald G. (Eds.): Handbook of Research on Reading Comprehension. New York: Routledge, pp. 69–90.
Alexander, Patricia A./ Fox, Emily/Maggioni, Liliana/Loughlin, Sandra/Baggetta, Peter/Dinsmore, Daniel L./Grossnickle, Emily M./List, Alexandra/Parkinson, Meghan M./Winters, Fielding I./Dumas, Denis (2012): Reading into the Future: Competence for the 21st Century. In: Educational Psychologist 47 (4), S. 259–280.
Barzilai, Sarit/Chinn, Clark A. (2018): On the Goals of Epistemic Education. Promoting Apt Epistemic Performance. In: Journal of the Learning Sciences 27 (3), pp. 353–389.
Bråten, Ivar/Braasch, Jason L. G./Salmerón, Ladislao (2020): Reading Multiple and Non-Traditional Texts: New Opportunities and New Challenges. In: Birr Moje, Elizabeth/Afflerbach, Peter/Enciso, Patricia/Lesaux, Nonie K. (Eds.): Handbook of Reading Research. Volume V. New York: Routledge, pp. 79–98.
Bråten, Ivar/Strømsø, Helge Ivar (2020): On the Roles of Dispositions and Beliefs in Learning from Multiple Perspectives. In: van Meter, Peggy N./List, Alexandra/Lombardi, Doug/Kendeou, Pa-nayiota (Eds.): Handbook of Learning from Multiple Representations and Perspectives. New York: Routledge, pp. 141–163.
Breakstone, Joel/ Smith, Mark D./Wineburg, Samuel S.R/apaport, Amie/Carle, Jill/Garland, Marshall/Saavedra, Anna. (2021): Students' Civic Online Reasoning: A National Portrait. In: Educational Researcher 50 (8), pp. 505–515.
Bromme, Rainer (2022): Informiertes Vertrauen in Wissenschaft: Lehren aus der COVID-19 Pande-mie für das Verständnis naturwissenschaftlicher Grundbildung (scientific literacy). In: Unterrichtswissenschaft 50 (3), S. 331–345.
Cho, Byeong-Young/Afflerbach, Peter/Han, Hyeju (2018): Strategic Processing in Accessing, Comprehending, and Using Multiple Sources Online. In: Braasch, Jason L. G./Bråten, Ivar/McCrudden, Matthew T. (Eds.): Handbook of Multiple Source Use. New York: Routledge, pp. 133–150.
Coiro, Julie (2021): Toward a Multifaceted Heuristic of Digital Reading to Inform Assessment, Research, Practice, and Policy. In: Reading Research Quarterly 56 (1), pp. 9–31.
Greene, Jeffrey Alan/Yu, Seung B. (2015): Educating Critical Thinkers. The Role of Epistemic Cogni-tion. In: Policy Insights from the Behavioral and Brain Sciences 3 (1), pp. 45–53.
Kozyreva, Anastasia/Lewandowsky, Stephan/Hertwig, Ralph (2020): Citizens versus the Internet. Confronting Digital Challenges with Cognitive Tools. In: Psychological Science in the Public Inter-est 21 (3), pp. 103–156.
Magliano, Joseph P./McCrudden, Matthew T./Rouet, Jean-François/Sabatini, John P. (2017): The Modern Reader. Should Changes to How We Read Affect Research and Theory? In: Schober, Michael F./Rapp, David N./Britt, Mary Anne (Eds.): The Routledge Handbook of Discourse Pro-cesses. 2nd ed. New York: Routledge, pp. 343–361.
Philipp, Maik (2021): Die Botschaft les' ich wohl, allein mir fehlt der Glaube … Epistemische Wachsamkeit als strategische Grundhaltung des Lesens digitaler Dokumente. In: Leseforum (3), S. 1–23.
Philipp, Maik (2022): Digitales Lesen – selbstregulative Prozessverbünde für den versierten Um-gang mit digitalen Informationen. In: Mitteilungen des Deutschen Germanistenverbandes 69 (4), S. 360–369.
Philipp, Maik (im Druck): Lesen digital. Komponenten und Prozesse einer sich wandelnden Kompetenz. Weinheim: Beltz Juventa.
Saux, Gaston/ Britt, Mary Anne/Vibert, Nicolas/Rouet, Jean-François (2021): Building Mental Models from Multiple Texts. How Readers Construct Coherence from Inconsistent Sources. In: Language and Linguistics Compass 15 (3), pp. 1–19.
Stadtler, Marc (2017): The Art of Reading in a Knowledge Society: Commentary on the Special Issue on Models of Multiple Text Comprehension. In: Educational Psychologist, 52 (3), pp. 225–231.
Winne, Philip H. (2018): Cognition and Metacognition within Self-Regulated Learning. In: Schunk, Dale H./Greene, Jeffrey Alan (Eds.): Handbook of Self-Regulation of Learning and Performance. 2nd ed. New York: Routledge, pp. 36–48.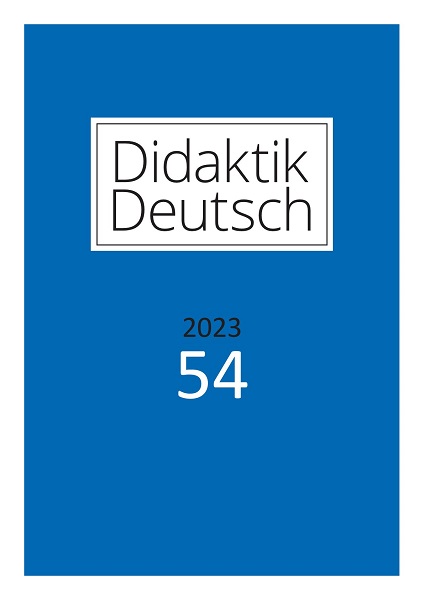 Downloads
Lizenz
Copyright (c) 2023 Maik Philipp
Dieses Werk steht unter der
Lizenz Creative Commons Namensnennung - Nicht-kommerziell - Keine Bearbeitungen 4.0 International
.